One of my favorite kind of animals are the über elegant felines. And the cats are some of the most Halloween- esque pets that exist. Here, you will find every kind of cosmetic and brush you would need to recreate this amazing look.
Una de las clases de animal que más me gustan son los súper elegantes felinos, y los gatos son las mascotas más clásicas de la temporada de Halloween. A continuación puedes encontrar todos los cosméticos y brochas que necesitas para recrear este increíble look. 
También puede interesarte: Cómo preparar la piel para el maquillaje de disfraces
Thanks to MAC Cosmetics for the product images and the video.
Gracias a MAC Cosmetics por las imágenes de producto y el video.
I will share my take of this look on my Instagram soon! Are you following me there yet?
Estaré compartiendo mi versión de este look muy pronto en mi Instagram! ¿Ya me sigues?
Update/ actualización:
I did this makeup on myself, following the instructions Tu Dang gives in the video, and I have some suggestions to make:
Recreé este maquillaje en mi misma, siguiendo las instrucciones que Tu Dang da en el video, y tengo algunas sugerencias al respecto:
Apply translucent powder over the white creamy makeup. It gives more control over the darker shadows you are going to apply later. She didn't say anything about it on the video, but it is a necessary step to keep it clean.
Aplica polvo translúcido sobre el maquillaje blanco. Te da más control sobre la aplicación de los tonos oscuros. No lo menciona el video, pero es un paso necesario para mantener el maquillaje limpio.
Keep in hand cotton pads and non- greasy makeup remover. Makeup remover towelettes are a good option too (I love the Neutrogena and the Eucerin ones). If you don't like how something came up, clean it and work over the area again. Instead of covering it with white paint that only leads to grey areas when mixed with any black makeup.
Ten a la mano algodón prensado y desmaquillante no graso. Las toallitas desmaquillantes son una buena opción (me encantan las de Neutrogena y las de Eucerin). Si no te gusta el resultado de alguno de los pasos, retira el maquillaje y trabaja sobre el área otra vez, en lugar de intentar arreglarlo con pintura blanca, que sólo termina viéndose gris cuando se mezcla con tonos oscuros.
For more controlled application, I went for a waterproof black eyeliner for the eyes, the upper lip, the chin's line and the dots.
Para lograr más control en la aplicación, opté por usar delineador en lápiz negro para los ojos, el labio superior, la línea de la barbilla y los puntos.
If you have full eyebrows, as I do, you can skip the coverage in white and instead of it, remark them as if they where part of the cat's face lines.
Si tienes las cejas gruesas, como las tengo yo, puedes optar por no cubrirlas en blanco y, en su lugar, remarcarlas como si fueran parte de las líneas faciales del gato.
Next time, I will paint the upper lip continuing the side lines, to make it more feline.
La próxima vez, pintaré las líneas laterales extendiendo el labio superior, para darle un toque más felino.
I decided to wear false eyelashes that had orange tips. You can paint a regular pair of falsies yourself, just use gel eyeliner, colored mascara or wet powder eyeshadows and a mini fan brush to apply the color to the tips BEFORE applying them. By the way, you can also use other kind of paint, just be sure it is completely dry before putting them on.
Decidí usar pestañas postizas con puntas anaranjadas. Puedes pintar tú misma la punta de pestañas postizas regulares usando delineador en gel, máscara de pestañas con color, pintura de agua o acrílica o sombra en polvo humedecida y un mini pincel de abanico. Aplica el color ANTES de ponerte las pestañas y asegúrate de que está bien seca la pintura para cuando las apliques.
At the end, seal everything with translucent powder and a big fluffy brush.
Al final, sella todo el maquillaje con polvo traslúcido y una brocha grande de cerdas abiertas.
Tag me everywhere as @Guapologa in any of your Social Media accounts (Twitter, IG, FB, Snapchat…) to share your Halloween makeup.
Etiquétame en cualquiera de tus redes sociales (Twitter, IG, FB, Snapchat…) como @Guapologa para ver tu maquillaje de Halloween.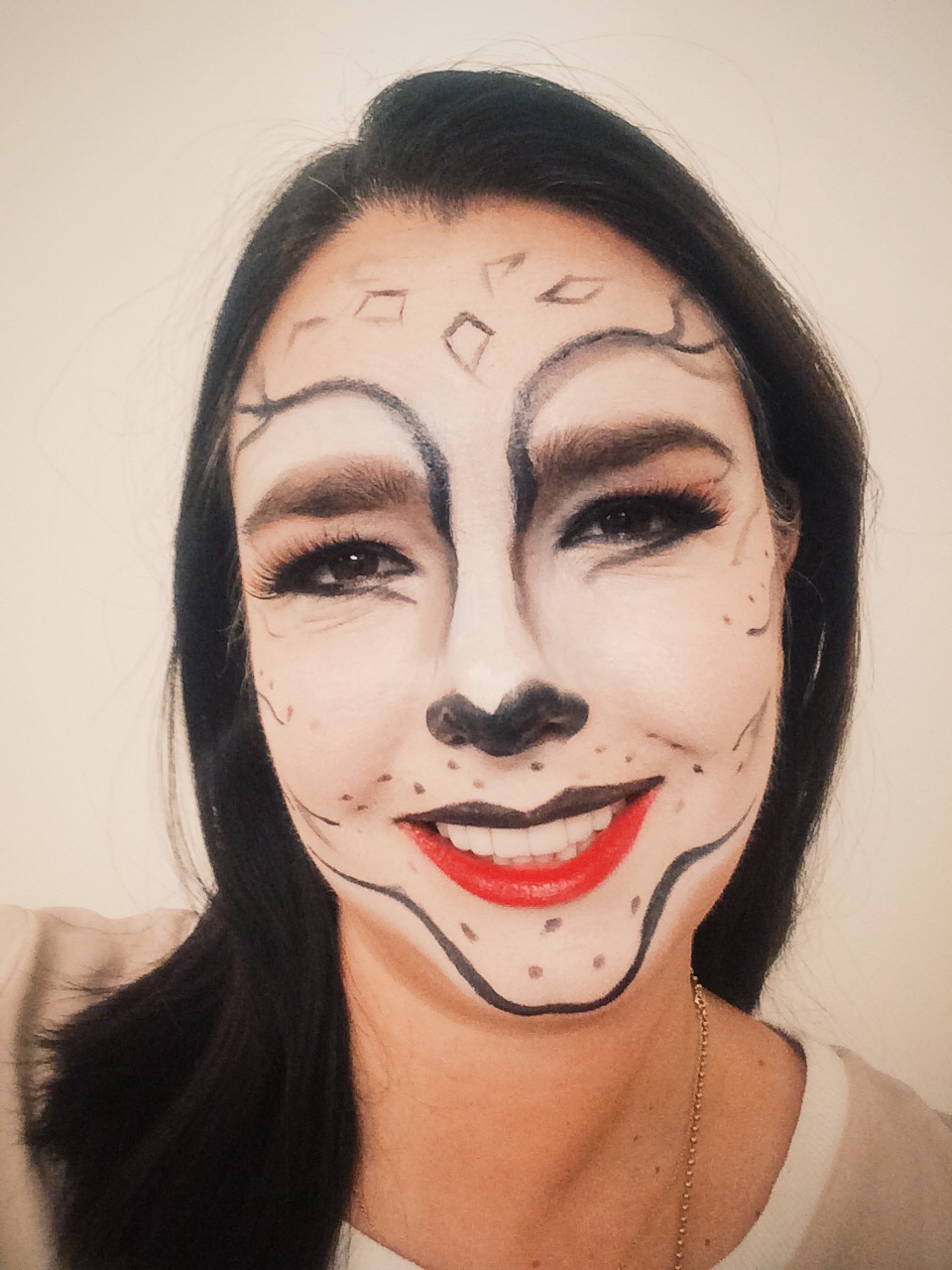 Facebook Comments